Undone
Undone
Zoetic Dance Ensemble
Choreographed by Amanda Thompson and Christina Noel Reaves
This modern dance piece explores triumphs and struggles in the lives of modern women. The movement portrays both the strength and vulnerability that drive these dancers.
The show opens with this slow and controlled duet that stays close to the ground.  The dancers are isolated and dimly lit to underscore the mood of the movement.
Two dancers are highlighted in the background as another narrates her story.  The lighting accentuates the face of the speaker while sculpting the bodies of the dancers that cross the stage behind her.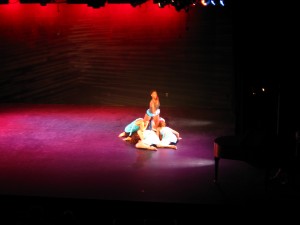 In this heated moment, a woman struggles to break free from the burdens holding her down.  The red background combined with the texture on the wall represent her energy.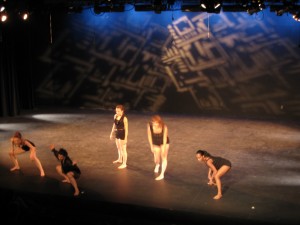 These characters have found a way to express their attitudes through the movement.  The blue drop and complex pattern represent the inner peace that comes from self-expression combined with the complex notions that they now begin to express.
This fiery piece shows the dancer's transitions as their movement becomes free and uninhibited.