Intringulis
Intringulis
Southern Repertory Theatre
Written and Performed by Carlo Alban
Directed by David Anzuelo
This original one-man show explores the process of immigration to the United States. It is Carlo's personal story, but also touches on the universal experience of all immigrants. The set was very minimal, so the visual element of design was left to the lighting and projections. The lighting served to set each segment of the show in various locations and serve the specific moods associated with each place.
This is the pre- show look.  The line bisecting the stage represents the equator line that plays a role later in the show.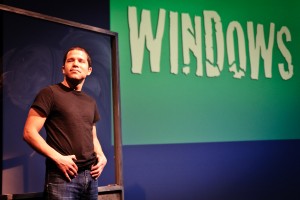 In this scene, Carlo plays a Mexican immigrant who has found peace through his job washing windows.  He knows that washing windows on high-rise buildings keeps him safe from the threat of immigration officers.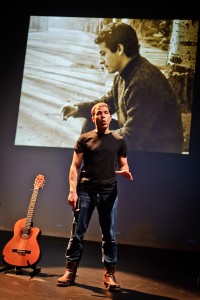 Carlo recounts the tragedy surrounding the death of singer- songwriter Victor Jara
Carlo returns to Ecuador after he was finally granted U.S. citizenship.  As he stands on the equator line, he celebrates his life and expresses his gratitude as he sings Gracias A La Vida by Violeta Parra.